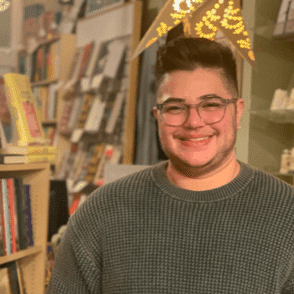 SJ Janjua, Board Member
SJ Janjua (they/them) joined the Trans Lifeline Board of Directors in 2023. They are a transgender non-binary person residing on Piscataway land in Baltimore, Maryland with their partner and two dogs.
SJ is currently a Development Manager at Higher Achievement, an organization that helps close the opportunity gap for middle schoolers in the mid-Atlantic region. They currently split their time doing database management and Diversity, Equity, and Inclusion work. Prior to working at Higher Achievement, SJ spent a few years in the classroom as a high school level English teacher and then decided to leave the classroom in pursuit of a master's degree. They received their master's degree in International Education at George Washington University in Washington, DC with focus areas in educational equity and access.
SJ enjoys advocating for equity, hiking, volunteering, front porch sittin, being in community with trans folks, and spoiling their dogs.