A Binding Guide for All Genders and Gender Expressions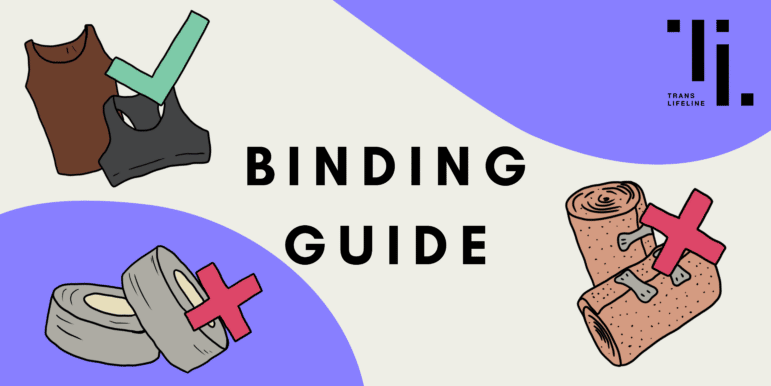 Chest binding is a gender-affirming practice done by all kinds of different people. Some people bind to reduce gender dysphoria. Some bind to present in a way that feels more aligned with their gender identity. Some folks bind because they just like the way it looks. There are many reasons people bind, and it doesn't always have to do with gender.
When it is used as a method for creating more congruence between one's gender identity and appearance, binding can greatly improve one's mental health. It is crucial, however, that if you are binding, you do it carefully. Although it can improve mental health, binding can cause serious health risks if done wrong. If you are binding, please pay attention to your body and make sure you're practicing it as safely as possible.
Tips & Tricks
How to Pick a Size
Binders come in many shapes and sizes. Here is a helpful sizing demonstration video by gc2b:
What Not To Do
Don't use ace bandages, plastic wrap, or duct tape. These things can cause physical harm—they restrict breathing, cause back pain, and cause fluid build-up in your lungs. They can also cause other injuries, such as broken ribs, skin damage, and musculoskeletal damage. Please be careful. If you DO end up using ace bandages (but please don't), make sure you take them off every couple of hours to let your chest breathe. If you lack the resources to purchase a commercial binder, look below at our list of where to get inexpensive and/or free binders.
Don't wear a binder that's too small for you. Ill-fitting binders put you at similar risks as ace bandages and duct tape. Also, don't put bandages and/or duct tape over your binder. Doing so can cause dizziness, headaches, lightheadedness, and/or numbness. There are many different colors and types of binders, such as tanks, half binders, racerbacks, and more. Pick one that feels comfortable for you. Make sure it provides a wide range of motion and that it sits naturally over your torso.
If it hurts, stop! You should not be in pain while wearing your binder.
If you're experiencing negative reactions from binding, please see a medical professional. The information on this site is not intended or implied to be a substitute for medical advice or treatment.
Additional Resources
Where to Get a Binder
Inexpensive or Free Used Binders
Where to Buy a Binder
Donate Your Binder or Help Someone Get a Free Binder
Looking for Swimwear?