Safe Hotlines: Meet Our New Advocacy Department
Safe Hotlines: Meet Our New Advocacy Department
We sat down with Yana Calou (they/them), Director of Advocacy, to learn more about what's in store for Trans Lifeline's new advocacy efforts.
Sign up for news on Safe Hotlines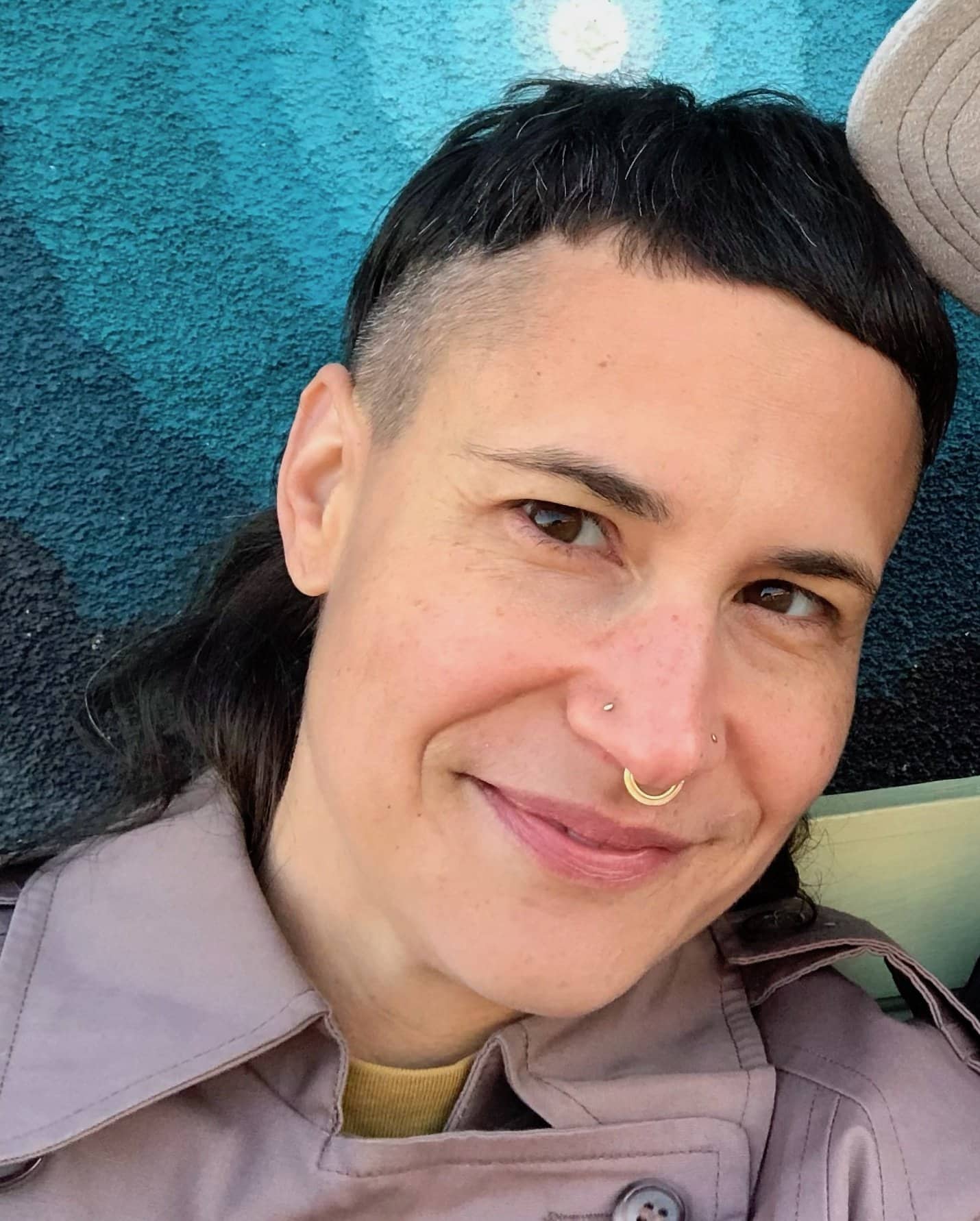 Q: Why is Trans Lifeline establishing an advocacy department?
A: Over the years of providing community-based crisis support without police, we've created a national peer support and crisis hotline model for providing care that's free of police intervention and involuntary hospitalization. We've done this because non-consensual law enforcement intervention and forced hospitalization often cause more harm to people in crises, particularly those in marginalized populations. We know they don't get to the causes of these crises.
Crisis lines are often touted as alternatives to calling police, when actually, most national hotlines and text services use geolocating surveillance to engage local police — often without the caller's knowledge or consent that cops or emergency medical teams are arriving at their location. Callers are tracked as they're first prompted to answer a slew of unreliable behavioral and risk assessment questions. These surveillance and risk assessment practices center liability and "saving" lives at all costs — but hurt communities of color and result in hundreds of thousands of police interactions with people in crises across the country each year.
This is not what survivors of such crises find helpful in the short or long term. These practices exacerbate crises and fail to address the cultural and structural factors responsible for people not having the safety, financial stability, community, housing, income, education or basic support necessary for our survival. Suicidality is actually a normal response to not having access to our basic necessities.
Q: What kinds of harms are caused by non-consensual police intervention?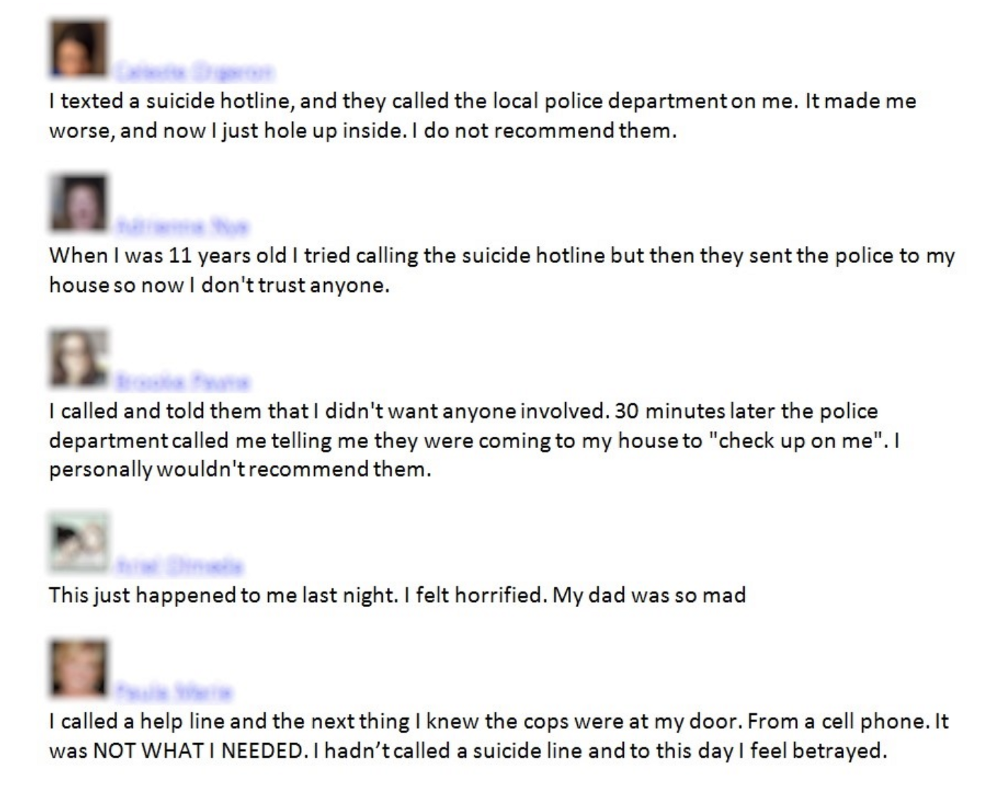 A: First, it's important to understand that these interventions have not been shown to prevent returns to suicidality. Even if a current suicide attempt is prevented by a non-consensual police intervention, such interactions often cause more short and long term trauma to people of color, queer and trans folks, youth, undocumented people, and people living with mental health disabilities. And even when police intervention does not result in police violence or criminalization, studies show that involuntary hospitalization for suicide attempts results in increased attempts post-release.
Because of these interventions, trans people are put in the wrong gender facility, denied trans related medications, trans youth are often non-consensually outed to unsupportive parents, and involuntary psych hold histories have been used to deny trans people the ability to give informed consent for life-saving trans health care.
Across the country, the practice of crisis hotlines engaging police intervention persists despite data around the inefficacy of such interventions, and story after story of harm being caused or exacerbated by police. Sadly, callers are given little to no access to information about what kinds of surveillance tools are used on them or what police interventions can trigger since they're buried in lengthy Terms of Service documents. Meanwhile, the real crisis of people not having structurally livable lives persists.
Q: What will our advocacy department focus on?
A: Because of the harm caused by non-consensual police intervention, our eventual goal is to eliminate the use of geolocating surveillance and police intervention on all crisis hotlines.
Historically, hotlines were specifically created as places callers could seek help without police or psychiatrists and "all of the likely consequences that followed from doing so: arrest, injury, and either incarceration or involuntary hospitalization." We want to support other crisis services in returning to the roots of our work.
We'll focus on:

– Educating other crisis hotlines and services about the need for community-based alternatives to police and hospitals

– Advocating for upfront hotline policy transparency so callers know what to expect

– Ending the use of surveillance tools and and non-consensual police intervention on crisis hotlines

– Informing providers and policy makers of trans-specific impacts when accessing crisis services

– Survivor-centered models of community-based care

Q: Why now?
A: Since our founding in 2014, Trans Lifeline has always been an abolitionist organization that's never used 911 on our hotline services. We're run by our community — we're all trans people who are mostly BIPOC.
Today, we're Black led and we continue to look to the leadership of other Black activists across the country working to defund police budgets to fund community-based care. We know that just supporting incarcerated trans people doesn't go far enough — we must remove police presence on crisis hotlines.
Within the next year, the FCC will roll out a mandate designating 988 as the number routing to the National Suicide Prevention Line and their 170 local affiliates — all of whom mandate the use of geolocation surveillance and sending law enforcement nonconsensually when faulty assessment rubrics point to "imminent risk." As funding follows anticipated call volumes, the time to change these practices is now.
Our hotline is one of several examples of how it's possible to fund, certify, and offer crisis support without causing more trauma by putting people in harm's way. It's time to build real supports — not harm.
Q: What are you hoping to accomplish?
A: We want to live in a world where all people in crisis can trust that the help they seek will be supportive, not harmful. To do this, crisis support must be driven by what survivors of mental health crises, police harm, and involuntary hospitalization know to be helpful. Survivor expertise will build the kind of community and peer-based support we need available to us in crises — as well as what kinds of support prevent crises in the first place.
We're building a powerful coalition of survivors and advocates across privacy, racial, disability, healing, and transformative justice movements for Safe Hotlines.
If you're interested in joining us, sign up for our advocacy mailing list or reach out to Yana at [email protected]